Hurricane Gustav's political fallout: a subdued GOP convention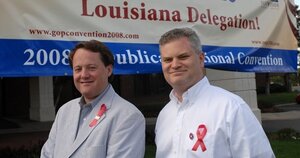 Photos by Mary Knox Merrill/Staff
Forget the funny hats, glitzy parties, and rousing, partisan speeches. The sober business of hurricane Gustav – though making landfall 1,200 miles away from the Twin Cities – has sent the 2008 Republican National Convention into uncharted territory.
What normally would have been a four-day extravaganza advertising the GOP ticket of John McCain and Sarah Palin has been downsized, at least early in the week, into a bare-bones affair. The Republicans could not afford to appear insensitive to the plight of the nation's Gulf Coast.
"There's nothing to gain from politics as usual," says John Zogby, an independent pollster.
Many actors face crucial tests this week: President Bush, months away from leaving office, has an opportunity to redeem himself from the missteps of hurricane Katrina three years ago. Although local and state officials shared in the blame, Mr. Bush appeared asleep at the wheel and his presidency never really recovered.
---