Palin daughter's pregnancy shocks GOP convention
But delegates say situation humanizes the nominee for vice president.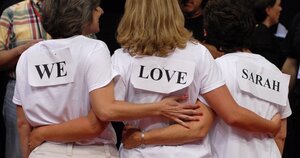 Mary Knox Merrill/Staff
In a convention already thrown off-kilter by hurricane Gustav, the news that GOP vice presidential candidate Sarah Palin's teenage daughter is pregnant has added yet another wrinkle to the proceedings.
"Obviously, it's not what these energized delegates want to hear," says Susan MacManus, a political scientist from the University of South Florida in Tampa, who spent Monday afternoon at the convention center.
The reaction among delegates has been twofold, she says: First, they wish they had been told up front so they would not be blindsided. Second, they surmise that the situation humanizes Governor Palin even more, as she and her family deal with a situation that many American families face.
Palin's oldest daughter, 17-year-old Bristol, is five months pregnant and will marry the father of the child, Palin and her husband disclosed Monday. The Palins decided to make the announcement to quell Internet rumors that Sarah Palin's fifth child, four-month-old Trig, is in fact her daughter Bristol's baby.
Bristol Palin's decision to have the baby comports with the antiabortion views of many of the delegates here. And so, given the alternative, there was a good-news element to the story.
The Palin announcement reopened the question of how closely GOP presidential candidate John McCain had vetted Palin before selecting her as his running mate, a move that surprised the political world last Friday. If he had not known of the daughter's pregnancy until now, what would that say about the thoroughness of Senator McCain's scrutiny – and about Palin's judgment? Two top McCain advisers, Stephen Schmidt and Mark Salter, told reporters in St. Paul Monday that Palin had indeed informed the campaign of Bristol's pregnancy during the vetting process, according to the Associated Press.
---