McCain shapes a maverick GOP convention
He shuffles speaking slots in the shortened event to keep up with fast-moving developments.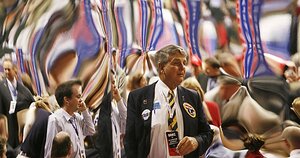 Damir Sagolj/Reuters
Call it the maverick convention for the nominee who cherishes his maverick image. It now appears the agenda for the rest of the Republican National Convention (RNC) here in St. Paul will be fast-moving and ad hoc – like presumptive nominee John McCain himself.
President Bush? Yes, he was scratched from Monday's proceedings in deference to the dangers posed by hurricane Gustav. But now he'll speak to delegates on Tuesday evening – although by video, instead of live, as originally planned.
Rudy Giuliani? He was supposed to be the convention's Tuesday's keynote speaker, but that's been changed, too. RNC officials deemed it likely Mr. Giuliani would still speak in a prime-time slot, but as to which day, and whether he would still be dubbed "keynote," they could not say.
Joe Lieberman? No, he's not going to be the vice-presidential nominee, however much affection Senator McCain has for his close friend in the Senate. But suddenly he's been slotted into a high-profile Tuesday's speaking slot.
Senator Lieberman's topic? "The Original Maverick." Gee, don't you wonder who that's about?
---