College orientations get political
Students arriving on campus encounter supersized efforts to encourage them to cast ballots.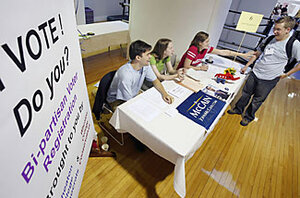 Courtesy of Michael Dwyer/Wheaton College
Welcome to college. Your first assignment: Register to vote.
Politics is perhaps unavoidable for students arriving on campus during a major presidential race. But college administrators and student organizers are supersizing the efforts this year to encourage them to cast their ballots.
"Orientation is a huge opportunity to register new voters … [and it] sends a great message … that civic engagement matters if one of the first things [students] are asked to do is register to vote," says Sujatha Jahagirdar, program director of the New Voters Project, an initiative of Student PIRGs (Public Interest Research Groups).
Many campuses are going beyond registration drives in an attempt to turn Election '08 into the educational opportunity of a lifetime:
•First-year students at St. Joseph's University in Philadelphia visited the National Constitution Center during their summer orientation. This week, they'll talk about "Stealing Democracy: The New Politics of Voter Suppression," by Spencer Overton.
•At Wheaton College in Norton, Mass., an administrator envisions a "march of the absentee ballots," with students decked out in political regalia walking en masse to the post office to send votes back home. Also, students of different political stripes are planning events this fall to encourage political dialogue.
---