Bush role in McCain campaign to fade away
But the president is still trying to unite the Republican Party.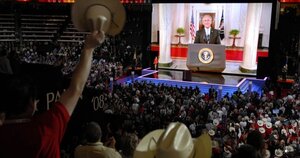 Mary Knox Merrill/Staff
President Bush's appearance before the Republican National Convention was huge – literally. His visage beamed from screens as big as Winnebagos when he addressed delegates at the Xcel Energy Center via video from the White House on Sept. 2.
But it's likely that Mr. Bush's role in the GOP effort to elect John McCain as his successor will only shrink as late summer turns into fall.
In part that's because of the two men's personal history. Senator McCain long resented the tactics Bush used against him in the 2000 primaries. McCain's advisers are eager to distance their candidate from some of an unpopular incumbent's policies.
It's also a reflection of the nature of US politics. For generations, presidential candidates from both parties have struggled to establish their own identities in the shadow of term-limited predecessors.
Remember 2000? Al Gore wanted to establish himself as more than Bill Clinton's vice president, and so he didn't use Mr. Clinton on the campaign trail as much as he could have, says Stephen Hess, senior fellow in governance studies at the Brookings Institution, a think tank in Washington.
---