Once-stalled GOP convention comes out swinging against Obama
Fred Thompson and Sen. Joe Lieberman use the McCain story to draw sharp contrasts with the Democratic presidential nominee.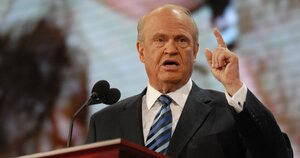 Mary Knox Merrill/Staff
On Day 2, the Republican National Convention returned to offense.
After a convention opening disrupted by hurricane Gustav and put on the defensive by news about the pregnancy of vice-presidential nominee Sarah Palin's daughter, speakers on the second evening of the GOP confab got proceedings moving again in a forward direction.
That meant two things: a reintroduction of John McCain to the nation, and some hard jabs at Democratic nominee Barack Obama.
Tough commercials lampooning Senator Obama as a typical celebrity helped pull Senator McCain even in polls prior to the opening of the late summer's convention season. The McCain camp now may be hoping that a return to an Obama-centric campaign message can erase the lead the Illinois senator has regained since the Democrats' national meeting in Denver last week.
---