Next test for McCain and Palin: winning undecideds
McCain and Palin fired up their base, but they'll need to attract independents and some Democrats to win.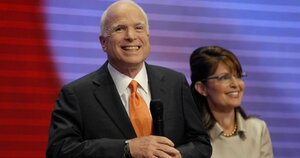 Mary Knox Merrill/STAFF
A series of forceful speeches at the Republican National Convention this week – particularly Alaska Gov. Sarah Palin's roof raiser Wednesday – turbocharged GOP activists searching a gloomy political landscape for something to feel good about.
But the 8-1/2 weeks until Election Day will bring the real test: convincing enough undecided voters, many only now tuning into the race, that John McCain should be president.
That fight, political analysts say, will turn in large measure on Senator McCain's ability to wrest the mantle of "change" from Sen. Barack Obama and win independents and conservative Democrats in swing states like Pennsylvania, Ohio, and Michigan.
"The shift we saw at the convention was away from a strict reliance on the experience card, to a revamped message that McCain will bring about the right kind of change," says Lawrence Jacobs, director of the Center for the Study of Politics and Governance at the University of Minnesota.
---