Palin's Wasilla: A small town with attitude
The vice presidential nominee's hometown in Alaska takes pride in its independent ways.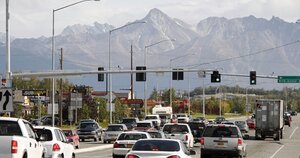 Al Grillo/AP
Here in Wasilla, a town of strip-mall sprawl and eccentric backwoods dwellers, people still talk about the time in 2004 when an irate resident contacted Ben Stevens, state Senate president, to question his vague explanations for taking consulting fees from an oil field-services company.
"Your [sic] just more valley trash," the senator wrote back. The grammar was wrong, but the name stuck.
News accounts of the exchange swiftly spawned bumper stickers and T-shirts proclaiming: "Proud to Be Valley Trash." Everyone now uses the phrase, even Sarah Palin, Wasilla's suddenly famous resident and former mayor, to contrast this lake-dotted countryside with more-sophisticated Anchorage 45 miles away.
In a way, Wasilla and the entire Matanuska-Susitna Borough – generally called the Mat-Su Valley, or "Mad-Zoo," by some wags – is having the last laugh. Mr. Stevens is now keeping a low profile; he and his father, US Sen. Ted Stevens, are among those embroiled in a federal corruption investigation allegedly involving, among other things, bribery and unreported gifts from the oil-services company VECO Corp. Meanwhile, Wasilla's most powerful resident has leapt from the mayor's office to the governor's seat to the national stage as the new GOP nominee for vice president.
---
Follow Stories Like This
Get the Monitor stories you care about delivered to your inbox.