Cheney visit: U.S. treads tightrope on Georgia aid
The Bush administration announces $1 billion in aid but no military assistance.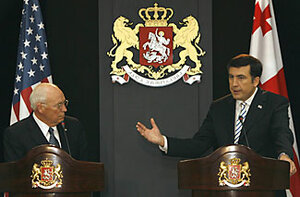 David Mdzinarishvili/Reuters
The Bush administration's announcement of $1 billion in humanitarian and economic aid – but no military assistance – to Georgia in the wake of its war with Russia suggests the delicate balancing act the United States will attempt as it confronts the repercussions of a newly assertive Russia.
The substantial aid package, which would make the small republic on Russia's southern flank a top recipient of US assistance, indicates the resolve of President Bush to support emerging Westward-leaning democracies in the area of the former Soviet Union.
At the same time, the absence at least for now of any assistance to Georgia's American-trained and –equipped military suggests a desire not to further provoke a Russia that considers the young republics on its borders part of its "near abroad." Despite terse accusations and mocking exchanges between the US and Russia in recent days, the Bush administration wants to avoid fully alienating a Russia that has an important role in other international issues.
The humanitarian and economic aid, which would help to house and feed war refugees in the short term and to rebuild infrastructure, was announced on the eve of Vice President Dick Cheney's visit Thursday to the Georgian capital of Tbilisi. Mr. Cheney criticized Russian actions in the brief war last month, while mounting a muscular defense of Georgia's hopes to join Western institutions including NATO – an aspiration that riles Russia.
---