Face-off ahead on offshore drilling ban
It tops Congress's agenda, now colored by lawmakers' preelection calculus.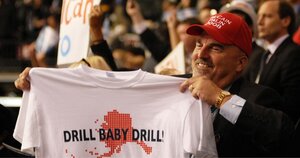 Mary Knox Merrill/The Chrsitian Science Monitor
In a sprint toward November elections, Congress is planning votes on hot-button issues from energy and the economy to equal pay for women, but with slim prospect that any of them will become law.
In election season, every vote is grist for a 30-second campaign ad, and the last weeks before the October recess are shaping up as a marathon for symbolic votes.
At the same time, the spending bills to fund the 2009 fiscal year, which begins Oct. 1, are unfinished or barely started. Even a resolution to continue government funding into a new administration is expected to be a highly charged vote, because it is the probable vehicle for extending a ban on offshore drilling, now set to expire on Sept. 30.
"It's almost impossible to separate any vote or debate in Congress now from the election," says Julian Zelizer, a congressional historian at Princeton University in New Jersey.
"For a legislator to go to Capitol Hill and try to remove the sounds and sights of Denver and Minneapolis is impossible," adds, referring to the parties' national conventions in those host cities. "All of the votes are calculated in terms of how they will affect Barack Obama, John McCain, and the congressional races."
---
Follow Stories Like This
Get the Monitor stories you care about delivered to your inbox.