Perkins: Palin a brilliant political pick
But head of the Family Research Council said social conservatives' enthusiasm for the Alaska governor may not be enough to win in '08.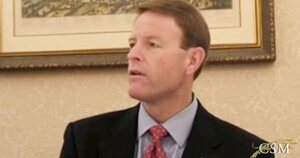 Social conservatives are pleased with John McCain's selection of Sarah Palin as his running mate. But "values" voters are increasingly independent and still wary about the Republican presidential candidate himself.
That was the assessment of Tony Perkins, president of the Family Research Council at a Monitor-sponsored breakfast for reporters on Wednesday.
Mr. Perkin's group is about to host several thousand conservatives at its Values Voters Summit here in Washington. The group describes itself as championing "marriage and family as the foundation of civilization, the seedbed of virtue, and the wellspring of society." The Nation magazine, no fan, has described the organization as "the Christian right lobbying powerhouse."
Perkins said McCain's selection of Alaska Governor Palin was "a brilliant pick, from a political standpoint." Perkins said McCain "has shown through this process that he is listening, maybe he is not looking, but he is listening."
Many religious conservatives disagree with McCain's support of research using embryonic stem cells and his decision to vote against bringing the federal marriage amendment – which would define marriage as a union between a man and a woman – to the Senate floor, among other issues. "He was uncomfortable addressing the social issues and clearly he selected a running mate that is comfortable with those issues," Perkins said.
---