Palin effect: Obama camp thrown off stride
The week has shown perils for Obama in running against the new GOP ticket.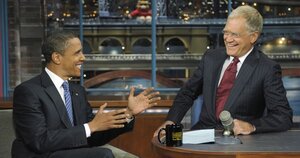 JEFFREY R STAAB/AP
In just two weeks, the 2008 presidential race has become the Sarah Palin election.
How can Democratic nominee Barack Obama, no longer the shiny new object in American politics, recapture his mojo, some worried liberals are asking. For Republican nominee John McCain, the feisty, charismatic Alaska governor has fulfilled his fondest wish: to inject a little star power into his own campaign and give his ticket a fighting chance in an otherwise dreadful year for the GOP.
Even Karl Rove, President Bush's former political guru and now an informal adviser to the McCain campaign, has some advice for the Democrat: "If Mr. Obama wants to win," he writes in The Wall Street Journal, "he needs to remember he's running against John McCain for president, not Mrs. Palin for vice president."
Obama already knows that, it appears. After Palin's selection on Aug. 29, the Illinois senator suggested the best approach was just to leave her alone. But the Obama campaign has been going after her, producing an ad, for example, that challenges her image as a reformer by pointing out that she initially supported the congressional earmark for Alaska's so-called "bridge to nowhere" before she opposed it.
---