McCain vies with Obama over 'change'
The campaign argument could be decided by which group of voters shows up at the polls.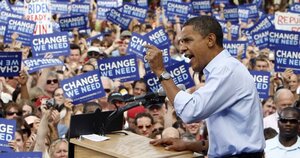 Chris Carlson/AP
The presidential race boils down to a fierce battle over one word: change.
For most of the campaign, Democrat Barack Obama has ridden his theme of "Change we can believe in" to victory over his primary opponents and to a fairly consistent lead in the national polls.
But since the Republican convention earlier this month, John McCain has tried to rip that mantle from Senator Obama, switching his own motto from being the candidate of "experience" to the "maverick who will bring change to Washington."
The McCain camp has also changed tactics, unapologetically going negative with campaign ads that both Republicans and Democrats have criticized for being full of distortions. It appears to be working: The race is now neck and neck, with some polls showing Senator McCain ahead.
The Obama campaign, in turn, is beginning to hit back, attacking McCain as a tired Washington insider with close ties to lobbyists and deploying Bill and Hillary Clinton on the campaign trail. The campaign has changed its motto to "For the change we need," and it is being urged by worried Democrats to go as negative as the McCain camp has – in a way, playing by the rules of the negative playbook that Obama had said he wanted to rewrite.
---