Wall Street's turmoil tests McCain
Obama goes on the attack with a new ad, while the GOP candidate calls for an investigation.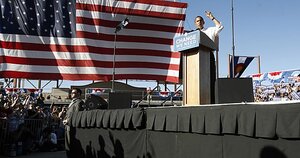 Chris Carlson/AP
With Wall Street embroiled in crisis, both major presidential candidates have jumped to the fore with proposals.
John McCain, the Republican, faces the tougher challenge. Fairly or not, as the nominee of the party controlling the White House, Senator McCain faces the prospect of guilt by association. McCain spoke on seven morning talk shows Tuesday, proposing a 9/11-commission-like investigation into what has led to the string of collapses of major financial institutions.
"This is a result of excess and greed and corruption," McCain said on MSNBC. "And that's exactly what is plaguing Americans today. And we got to fix it and we've got to update our regulatory system. We have to have a 9/11 commission to find out what went wrong and to fix what's going to happen in the future so this never, ever happens again."
Barack Obama, the Democrat, had billed an appearance in Golden, Colo., Tuesday as a speech focused on "his plans to revamp our regulatory framework, push back against special interests, and grow the American economy," according to his campaign.
But the headline out of the speech was his rejection of McCain's idea for a commission, calling it "the oldest Washington stunt in the book."
---