Schools: Obama stresses more investment, McCain parental choice
A growing chorus of business and education-reform advocates are hoping the next president will create a 'Sputnik moment' for education.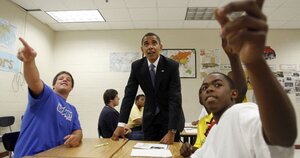 Chris Carlson/AP
Presidential candidates John McCain and Barack Obama offer different visions for how the federal government can help America's students get ahead.
Senator McCain's drumbeat is parental choice and empowerment – making it easier for students in substandard schools to take funding with them, whether to a tutoring company or another public or private school. Senator Obama's thrust is strategic investment – more federal dollars to put good teachers into high-needs schools, increase charter-school options, and boost early childhood development to stave off achievement gaps.
But in an election dominated by economics, war, and a surprise vice presidential pick, such education issues resemble a kid in the back of the class, frantically waving for attention. Still, a growing chorus of business and education-reform advocates are on that kid's side. They hope that whoever becomes the next president will help create the educational equivalent of the "Sputnik moment" – when America reached for the moon.
Whose vision will enter the Oval Office?
"The key difference is that Obama puts the emphasis on improving the public schools, working through the schools themselves, and McCain believes in outside pressures through the free market," says Jack Jennings, president of the Center on Education Policy, a nonprofit research group in Washington that advocates for more-effective public schools.
---