Obama, McCain, and the financial crisis
John McCain has the harder job of countering his support of Bush and his push for deregulation.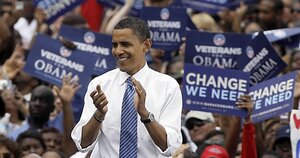 Chris Carlson/AP
A week after the worst crisis since the Great Depression engulfed Wall Street, the presidential race has shifted perceptibly to Barack Obama's advantage.
A bad economy always benefits the "out" party, no matter who is the nominee. And while both major party candidates initially offered cautious support for the Bush administration's proposed rescue plan, which could cost taxpayers up to $700 billion, the onus has been on Republican nominee John McCain to show how his presidency would represent real change.
"Now he [McCain] is extraordinarily vulnerable to a 26-year history of being a strong proponent of deregulation, of getting government out of the way and letting markets manage economic growth," says Cal Jillson, a political scientist at Southern Methodist University in Dallas. "That just won't fly."
McCain, as a sitting senator, faces the uncomfortable task of needing to cast votes on the Bush administration plan – where Republican Party unity will be expected – while at the same time distancing himself from an unpopular president of his own party.
Both senators are in a tricky spot, but for McCain it's worse, because he's under pressure to distance himself from Bush and support him at the same time. Obama does not face the same pressure.
Last Friday, McCain put out his own plan to reform Wall Street, but has done little to promote or explain it. On Sunday night, a McCain spokeswoman announced that the senator would call for creation of a bipartisan board to oversee the proposed Wall Street bailout.
---