Bush and the U.N.: a reluctant embrace
The administration's attitude toward the UN has evolved from antipathy to engagement.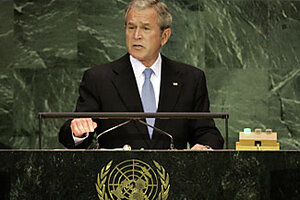 Ed Betz/AP/FILE
When President Bush stands at the podium of the United Nations General Assembly Tuesday morning, his last speech as American president to the global forum will mark the administration's trajectory from disdain and disregard for the UN to pragmatic acceptance and even, according to some US officials, whole-hearted engagement.
That shift has come in part because the United Nations has proved to Mr. Bush to be an essential partner in his central national security focus – the battle against terrorism. The body Bush once said risked "irrelevance" has taken a number of actions since 9/11 – targeting the finances of terrorist groups, enacting controls on the spread of weapons of mass destruction, approving sanctions to halt nuclear proliferation – that reinforce US national security goals.
The UN "looks very different today than it did on Sept. 10 of 2001, and those changes put the UN on better footing to prevent future terrorist attacks," says Brian Hook, acting assistant secretary of State for international organization affairs. Noting that the UN's charter calls for it to address threats to the world's peace and security, Mr. Hook says, "This president has worked very hard to help the UN give meaning to its ideals."
---