McCain-Obama debate: a game-changing face-off?
Some presidential debates tip elections. This could be one of them.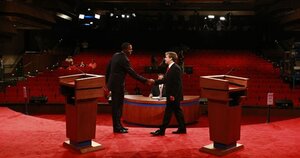 Chip Somodevilla/AP
The debate is on, despite the continuing negotiations on Capitol Hill over the nation's financial crisis.
John McCain has finally agreed to join Barack Obama on stage here in Oxford, Miss. And the encounter has all of the earmarks of a major game-changer.
That's not just because of the nation's economic crisis and the drama of the last day and a half over whether McCain would attend. Tonight's encounter has the potential to rival the televised contest of 1960 between John Kennedy and Richard Nixon that tipped the electorate in favor of the Democrat, debate experts say, or the 1980 face-off between Jimmy Carter and Ronald Reagan that helped shift the momentum in the GOP's favor.
The race between Barack Obama and John McCain remains tight. Some voters in both parties are still looking to be reassured about their own candidate's leadership qualities and temperament. Alliances within each party's base are also in flux: some rural voters, traditional Republicans, are leaning toward Obama. Some white women voters, traditionally more Democratic, are favoring McCain.
Add into the mix a column of "undecided voters" as large as 8 percent, and this series of debates kicking off with foreign policy here are expected to go down in the halls of debate fame.
---