How bailout deal will impact next president
A $700 billion US rescue of banks is not likely to crimp McCain's or Obama'sspending plans, at least in the short term.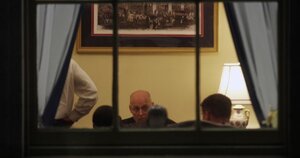 While rarely in Washington, presidential contenders John McCain and Barack Obama are keeping a close eye on the massive rescue of US financial markets working its way through Congress.
One reason: As president, one or the other will have to live with its outcomes.
But neither candidate expects to have to lop $700 billion – the expected level of funding for the plan – off their presidential wish lists – and experts say they may be right, at least in the short term. (The latest version of the legislation, released late Sunday, is available at http://financialservices.house.gov.)
Asked in their first presidential debate in Oxford, Miss., on Friday what each would give up to pay for the rescue plan, neither candidate offered up anything cherished.
Senator McCain, the Republican nominee, said he'd cut pork barrel projects, slash ethanol subsidies, terminate cost-plus defense contracts, freeze non-Defense and non-Veterans Affairs discretionary spending, and "scrub every agency of government." But for the freeze, these are all positions he has advanced in the past.
Senator Obama, the Democratic nominee, said that "there are going to be things that end up having to be deferred and delayed," but added that they would not be investments in energy independence, health care, education, or infrastructure – his top four priorities.
---