Financial crisis shakes up presidential campaign
Barack Obama has the edge on economic issues, but volatile markets could change that.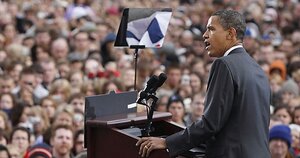 Jason Reed/Reuters
The chaos and confusion of the credit crisis have further scrambled the wild presidential race of 2008.
Democrat Barack Obama appears to have gained an electoral edge from his actions over recent days. But "gain," in this context, is a relative term. Given the volatility of the situation, Senator Obama's narrow lead among voters on economic issues could disappear with the next plunge of the Dow Jones Average.
For the moment, both Obama and GOP nominee Sen. John McCain are stuck pressing for passage of an unpopular bailout bill only weeks before election day. Voters appear dismayed by losses in retirement funds and predictions of dire economic problems, but they may remain unsure whether Washington's current course is the right one.
"The complexity of the situation for the average person is just daunting," says Michael McTeague, a former history professor and acting interim associate dean at Ohio University-Eastern in St. Clairsville.
The collapse of big eastern financial institutions does worry voters around Ohio University-Eastern's campus, located only 15 miles west of Wheeling W. Va., adds Mr. McTeague. But their biggest concerns remain local.
---