McCain's 2007 Pakistan trip: bold move or needless risk?
His campaign reveals he made an unannounced trip to North Waziristan, where few Westerners dare to venture.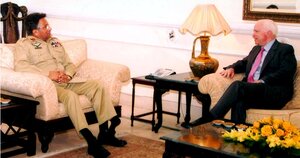 Waziristan is one of the most dangerous places on Earth for Westerners, let alone US presidential candidates.
Isolated and mountainous, North and South Waziristan form part of Pakistan's tribal belt, a semiautonomous zone along the border with Afghanistan where Taliban fighters and an Al Qaeda remnant have found sanctuary. This region is often cited as a likely hiding place for Osama bin Laden. It is extremely rare for journalists - Pakistani reporters included - to venture there. Neither does the Pakistani military have free access to the entire region under agreements in place for more than a century.
So when GOP presidential candidate John McCain touted his travel to Waziristan to highlight his foreign policy credentials in last Friday's debate, it raised some eyebrows.
---
Follow Stories Like This
Get the Monitor stories you care about delivered to your inbox.