Battles rage over new voters
Legal disputes loom as the political parties spar over voter lists, new registrations.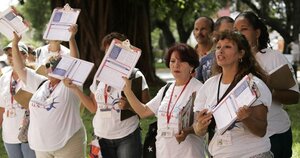 J. Pat carter/ap
Record numbers of new voters – including 4 million in 12 key states – have registered this year, and election officials are preparing for high turnouts on Nov. 4.
Questions remain, though, about whose votes will be counted. Less than a month before the presidential election, legal battles are brewing in multiple states over election laws, voter registration, and attempts to clean up state voter lists.
Democrats and voter-rights groups tend to cry foul over any effort that might disenfranchise legitimate voters, while Republicans challenge same-day registration and point to illegal behavior and potential fraud on the part of some voter-registration workers.
In a close election in which a battleground state can hinge on a few thousand votes, voter advocates are concerned that underhanded or even well-intentioned verification efforts may keep eligible voters from having their ballots counted, even as officials work hard to purge lists to make sure they contain legitimate voters.
"We're now entering that phase of the election where all of the lawyering is going on," says Michael McDonald, a political scientist at George Mason University in Fairfax, Va., noting that the number of lawsuits around election law has jumped since Florida's recount in 2000. "We've discovered that these things matter quite a bit, especially when we have close elections," he says.
---