Post 'troopergate,' Palin still popular in Alaska, just not as much
Many Alaskans seem more upset with the McCain campaign's tactics during the ethics probe than with the governor.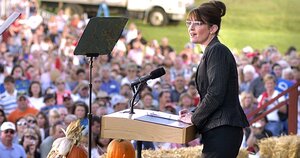 Scott McCloskey/The Intelligencer/AP
Anchorage, Alaska – It started in July as an obscure inquiry into Gov. Sarah Palin's firing of a popular and much-admired public safety commissioner. But after Governor Palin was selected as the Republican nominee for vice president, the controversy known as "troopergate" – so named because Palin was accused of using her office to take revenge on a state trooper who was once married to her sister – ballooned into a matter of international interest.
The investigation, Palin critics said, belied her claims of being an ethics reformer and illustrated poor judgment by John McCain in selecting a running mate after so little vetting. But Palin supporters characterized the investigation as harassment orchestrated by Sen. Barack Obama's Alaska supporters and as an unfair attack on the governor for her concerns about a former in-law she considered to unfit to wear a law-enforcement badge.
On Friday, a bipartisan panel of state legislators released a 263-page investigative report that concluded Palin had abused her power by summoning the authority of her office to pursue a personal grudge, in violation of the Alaska Executive Branch Ethics Act.
"Governor Palin knowingly permitted a situation to continue where impermissible pressure was placed on several subordinates in order to advance a personal agenda, to wit: to get Trooper Michael Wooten fired," said the report, written by Steve Branchflower, a retired state prosecutor hired by lawmakers to conduct the investigation.
---