McCain aims for crucial senior vote
Obama now leads in states with many older voters.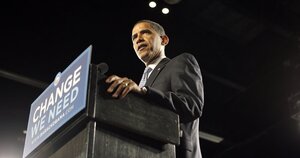 Now, it's all about the seniors. In a presidential race that is marching daily – but not irreversibly – toward the election of Democrat Barack Obama, Republican John McCain unveiled proposals Tuesday aimed foremost at benefiting older Americans hit hard by the gyrations of the stock market.
Seniors represent a critical voting bloc in states that Senator McCain has to hold onto to win the election – including Florida, Ohio, and Indiana – and that have been moving toward Senator Obama. Senior citizens are also crucial in blue states such as Wisconsin and Pennsylvania, where Obama now has double-digit leads and which McCain has worked hard to sway. He announced what he calls his Pension and Family Security Plan at an event in Blue Bell, Pa.
The plan includes a reduction of the tax rate on withdrawals from IRAs and 401(k)s to 10 percent. McCain also repeated his proposal to suspend tax rules that require seniors to begin selling off equities when they reach age 70 1/2. Obama announced his own economic plan on Monday, including tax credits for job creation and a moratorium on home foreclosures. But it is McCain who needs a dramatic shift in momentum, and his emphasis on seniors is telling: These are voters that McCain should be winning handily, and any sense that they may be drifting away from him is a warning sign.
---