New voter: a young woman's political awakening
Hayley Colley of Tennessee is among the Americans who, on Nov. 4, will cast votes in a US presidential election for the first time.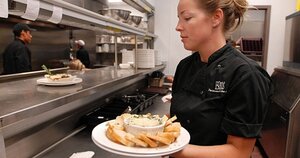 Mary Knox Merrill/Staff
When Hayley Aurora Colley turned 18, registering to vote was nowhere on her to-do list. The sassy California girl with a spray of freckles sought only freedom five years ago when she left the Santa Barbara apartment she shared with her mom and brother.
Her first year at a Tennessee college was a blur of frat parties, jock boyfriends, and nights of such revelry that she slept through morning classes. She and her friends griped sometimes about President Bush, "but I wasn't proactive" about it.
Then, in December, the real world hit her. She graduated with decent grades but few job prospects. Gasoline prices were draining her pay as a waitress. And she was concerned about the effects of the Iraq war on young veterans she'd met.
For the first time, Hayley saw links between her own life and the decisions of elected officials in Washington. This summer, after months of procrastination, she filled out a voter-registration form.
This presidential election year has seen a groundswell in first-time registrations and voting by young people, a group with notoriously little interest in electoral politics. An estimated 17 percent of Americans ages 18 to 29 voted in a presidential primary or caucus this year, up from 9 percent in 2000, according to CIRCLE, a College Park, Md., group that tracks youth civic participation. All told, more than 6.5 million Americans under 30 voted in the nomination contests.
---