Are voter fraud fears overblown?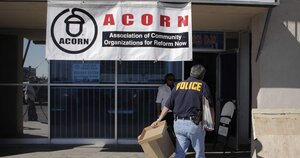 Jae C. Hong/AP
Depending on whom you listen to, this election is either facing "the greatest fraud in voter history," or a minor nuisance from lazy registration gatherers.
The more alarming interpretation comes from Republican presidential candidate John McCain. He leveled the charge against ACORN, a national activist group that's the source of faulty registrations in about a dozen states and the target of a government raid in Las Vegas. Citing unnamed sources, the Associated Press reports that the Federal Bureau of Investigation is looking into the group.
But many elections experts consider Senator McCain's assertion to be hyperbole. Fake voter registration applications, they say, tend to be an effort by individual low-wage workers to cheat on a day's work, not cheat the vote on Election Day. Someone might register "Mickey Mouse," but Mr. Mouse isn't likely to show up to vote.
"It's hyperbole because there's no good evidence that voter registration fraud leads to election fraud that changes elections. And it's irresponsible because it gins up worries that the election is going to be stolen," says Richard L. Hasen, a professor specializing in election law at Loyola Law School in Los Angeles.
---