Candidates' healthcare fixes: tax credits vs. more federal spending
The US spends twice as much on healthcare per capita than other nations but still trails in access to care.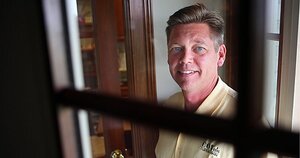 Melanie Stetson Freeman/The Christian Science Monitor
Over the past 25 years, the American healthcare system has been steadily unraveling.
More than 45 million Americans now have no health insurance at all. Another 25 million have some coverage, but not enough to pay their medical bills.
For the 6 in 10 Americans who do have healthcare plans through their employers, each year finds them paying higher premiums and higher deductibles even as their coverage shrinks.
Their employers, meanwhile, have to cope with annual premium increases of 10, 20, or 30 percent. Many have to shop around each year just to find an insurance policy they can afford. Some give up and stop offering insurance altogether.
In short, the American healthcare system is a mess. And recent polls show that, next to the economy and Iraq, healthcare is foremost on voters' minds.
"We're spending twice percapita what other countries are spending and we're 19th out of 19 for conditions that are amenable to medical care," says Karen Davis, the president of the Commonwealth Fund, a nonprofit, private foundation dedicated to improving the nation's healthcare system. "Two-thirds of American adults have a problem either getting or paying for medical care."
The presidential candidates' prescriptions to fix the healthcare system are strikingly different. John McCain would offer tax credits to help people buy insurance. He'd pay for it by taxing as income the healthcare benefits that people currently receive from their employers.
---