George W. Bush and pop culture's perception
More than all his predecessors, Bush may see his legacy shaped by the barrage of new media.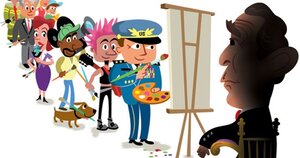 Scott Wallace/Staff
During his eight tumultuous years in office, President George W. Bush has been portrayed in popular culture as a hubristic cowboy, a puppet of Dick Cheney, and the worst mangler of the English language since Shakespeare's Dogberry. Oliver Stone's new biopic, "W.," even focuses on Bush's supposed "daddy issues."
And those are the gentler depictions. He's also been branded a liar in Neil Young's "Let's Impeach the President," accused of being in cahoots with Saudi oilmen in Michael Moore's "Fahrenheit 9/11," and pilloried in the post-hurricane Katrina mash-up video "George Bush Doesn't Care about Black People."
Bush is hardly the first White House occupant to endure invective from entertainers, and such clashes tend to be particularly pronounced when a Republican is pitted against left-leaning creative types. But the 43rd president's time in office has marked a fundamental turning point in the relationship between popular culture and politics. The proliferation of new forms of media – coupled with a democratization of communication that allows anyone with a modem to become a filmmaker, broadcaster, or pundit – has meant that no other sitting president has had quite so many slings and arrows to suffer. Against such a backdrop, Bush may find it exceedingly difficult to control the final narrative of his presidency.
---