The rush is on to vote early
Obama seems to be benefiting so far, but McCain forces are hustling to get their supporters out, too.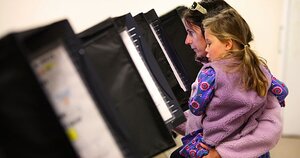 Melanie Stetson Freeman/Staff
Barack Obama has been urging his supporters to vote early when possible, and so far it seems to be paying off.
Some polling data indicates Senator Obama has as much as a 20 percent lead over John McCain from early votes. And in early-voting states like North Carolina, Florida, and Georgia, Democrats are coming to the polls in much greater numbers.
The strategy allows Obama to make sure his supporters – who may be discouraged by long lines after work on Election Day – actually cast their ballots, as well as to shore up support at a time when he's leading in the polls in many states.
"It just makes sense as a campaign strategy because the public climate is very favorable to Obama right now," says Darrell West, director of Governance Studies at the Brookings Institution. "The more people who decide now, the better off he is. You never know what's going to change."
---