The new voter: A Southern black man stands to be counted
Amos 'Duke' Griffin Sr. knows racial violence, disaffection, and homelessness. Now, on his path to a more stable life, he elects to vote for the first time.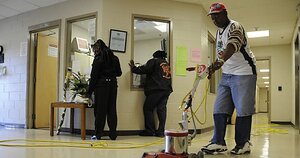 Mary Knox Merrill/Staff
It took Amos Griffin Sr. nearly half a century to register to vote, but last week – on Day 1 of early voting in North Carolina – he cast the first ballot of his 64 years.
"I've been thinking it's time for me to vote," he says, outside the Guilford County Courthouse in Greensboro, N.C., where he waited 2-1/2 hours in line to vote. "We're in the soup now. We're the richest country in the world, begging."
Mr. Griffin – "Duke" to the many people who greet him as he strolls the tree-studded park where he once lived – could be Exhibit A for the most powerful voter-registration drive in recent state history, now running almost 5 to 1 in favor of Democrats.
The Obama campaign alone has recruited some 17,000 volunteers in North Carolina, along with hundreds of paid staff in 45 offices around the state – all fixed on registering and turning out anyone who might vote Democrat.
That bid has especially fired up the African-American community, a group historically in the Democratic column. Between January and mid-October, the number of black registered voters jumped 14 percent, compared with 6 percent for whites, according to figures from the state election board.
The result is that 22.4 percent of eligible Tarheel voters are black, up from 20.9 percent in 2004. The overall uptick is small, but in a close election – which polls show is likely to be the case between presidential rivals Barack Obama and John McCain in this state – those new black voters could determine who will win North Carolina's 15 Electoral College votes.
---