Which candidate's plan would best ease the mortgage crisis?
McCain and Obama differ on solutions, which could echo FDR's during the Great Depression.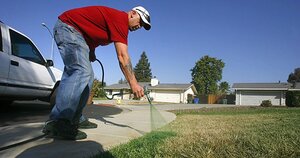 Tony Avelar/The Christian Science Monitor
Nick Terlouw sprays green paint from a garden hose as if he were watering the lawn. The browned-out grass, dead from neglect, turns golf-course luscious in less than 15 minutes. Then it's off to the next lawn for Mr. Terlouw, one of the few people in Stockton – America's foreclosure capital – making serious green out of the bust.
Sometime soon, Terlouw may be visiting the homes of Kevin Smith and Eddie Chavez. These Stocktonians might be in the throes of foreclosure before the next president is sworn in.
Both candidates have ambitious plans for helping struggling homeowners like Mr. Smith and Mr. Chavez. But the candidates differ over how to get lenders to modify loans and over who should ultimately foot the bill for the losses.
Republican Sen. John McCain favors a more aggressive approach of buying up bad loans and reissuing new ones mostly at taxpayer expense.
His Democratic rival, Sen. Barack Obama, would try carrots and sticks to move lenders to renegotiate and swallow much of the losses. Many housing experts find fault with both plans, leaning toward a partial mix of the two.
"It's not that it's a bad idea for the federalgovernment to buy some of this debt, it's just what the price is and what the terms of the deal are," says Stuart Gabriel, director of the Ziman Center for Real Estate at the University of California, Los Angeles. "It would be prudent for the taxpayer to divide the hurt, so to speak, with the lender and the homeowner."
---