The new voter: From an early age, a GOP activist is born
Tanya Renicker of Ohio University bucks the 'youth vote' trend to back McCain-Palin, even going door to door on the ticket's behalf.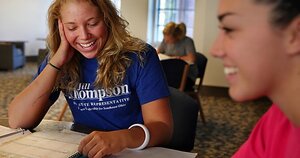 Melanie Stetson Freeman/Staff
From the time Tanya Renicker was in sixth grade, she knew she'd vote as soon as she could. Soon after she turned 18 last year, she drove the 16 miles from her family's farm in Sherrodsville, Ohio, to the Tuscarawas County Courthouse and registered to vote.
On March 4, the day of the Republican primary in Ohio, she pulled the lever for the first time.
"My mom took a picture of me going in to vote," she says. "It was such an emotional experience. I was so excited to have a say in our government. I just wish everybody was as excited about it as I am."
Not so long ago, this young woman would have had little company. Many young people were tuned out from politics. Fewer than half of those ages 18 to 24 who were eligible to cast ballots in 2000 actually did so. But this could be called the Year of the Young. Fully 86 percent of young people say they will probably vote on Nov. 4, polls show.
Tanya, however, is not like a majority of her peers: She's a committed Republican. Young people are voting for Democrat Barack Obama by more than 60 percent, according to a recent poll by the Democratic polling firm Greenberg Quinlan Rosner Research. A separate poll by nonpartisan Zogby International – this one of cellphone users, who tend to be young – found a similar result.
---