How McCain, Obama would do as commander in chief
McCain has the experience, but Obama may be more open to Pentagon advice.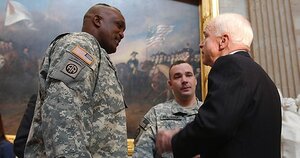 Dennis Cook/AP
What kind of commander in chief would Sen. John McCain or Sen. Barack Obama be?
National security issues loom large for the next president: He will have to manage the drawdown of thousands of American troops in Iraq, oversee the deployment of thousands more in an increasingly violent Afghanistan, and assess whether to grow the military to cope with the war on terrorism.
On these issues, the advantage might seem to be all on the side of Senator McCain, a war veteran.
But former defense officials, as well as active-duty and retired officers, say that the military – whose rank and file are perceived to vote Republican – sees positives and negatives in both candidates.
McCain's big advantages are his experience and his familiarity with the military, but Senator Obama's may be a greater willingness to listen to Pentagon advice.
That could be important because the past eight years under the Bush administration, especially the decision to invade Iraq, has left some Pentagon officers feeling ignored.
"Senior military officers have carried out orders they didn't agree with all their professional lives," says Dennis Blair, who retired as a four-star admiral in 2002 and who served in senior defense jobs during two administration transitions. "All they want is for their best military advice to be considered, and then they will salute and execute their orders. It's pretty easy for an incoming administration if they are smart enough, to give them a chance."
---
Follow Stories Like This
Get the Monitor stories you care about delivered to your inbox.