Who will help shape McCain, Obama foreign policy?
Both candidates would likely draw from previous administrations to build their teams.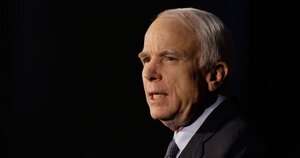 Carolyn Kaster/AP
After initially relying on some outside-the-box foreign-policy advisers, Barack Obama has surrounded himself with many well-known and longtime world-affairs practitioners. That suggests to some critics that his would be an orthodox foreign policy largely in the President Clinton mold – with an interventionist streak in times of humanitarian crisis.
John McCain lends an ear to some of the original neoconservative backers of the war in Iraq, but his team also includes Republican realists and internationalists of the George H.W. Bush tradition. That split between American idealism and pragmatism is raising questions about whether the bifurcated foreign policy of the outgoing President Bush might continue in a McCain White House.
When it comes to defining the foreign policy each would practice, the two candidates have given speeches and answered debate questions indicating where they might go. But the foreign-policy brain trusts assembled by each offer another set of clues as to how American diplomacy and power might be employed under two very different men.
---