As McCain warns independents, Obama woos them with pricey infomercial
Obama's TV piece portrays him as part of the middle-class. McCain calls it 'gauzy.'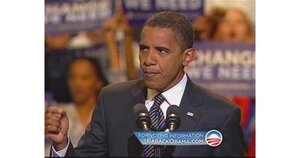 Obama campaign/AP
The idea behind a Barack Obama infomercial was too easy to mock: "Vote Now and Get The Second Four Years for Free!"
But from a technical point of view – at least in terms of a pitch to the 6 to 8 percent of undecided voters – the half-hour ad his campaign aired Wednesday night was a quality piece of television. Even conservative commentators agreed that was the case, although some thought it was overkill – especially because it was accompanied by a day-long series of rallies and television appearances by Senator Obama. They culminated with Obama's first appearance on the stump with former President Bill Clinton, at a rally in Florida, and with a satellite appearance on "The Daily Show" with Jon Stewart, the Walter Cronkite-like icon for the under-30 set.
The McCain camp, meanwhile, spent the day hammering a theme with which it began its campaign: that Obama is inexperienced and "dangerously" unprepared to take on a world threatened by terrorism. At a rally in Miami, Sen. John McCain reminded voters he has served America since he was 17 and has "the scars to prove it." He also dismissed the Obama show as a "gauzy, feel-good commercial."
---
Follow Stories Like This
Get the Monitor stories you care about delivered to your inbox.