McCain makes his closing arguments
Behind in the polls and in key swing states, he throws everything he can at Obama.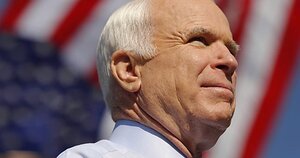 Brian Snyder/REUTERS
The latest slam against Barack Obama doesn't exactly trip off the tongue: "redistributionist in chief."
But at this point in the presidential campaign, underdog Republican John McCain will take what he can get.
The surfacing of a seven-year-old interview from a Chicago public radio archive, in which Professor Obama spoke of "redistributive change," has fueled the charge that the Democratic nominee is a closet socialist.
To conservatives, who have long framed him as a classic "tax-and- spend liberal," now-Senator Obama aims to be nothing less than Robin Hood.
To his supporters, the 2001 recording merely plays out a dusty academic argument over how to bring about social change – through the courts or through laws.
For Senator McCain, behind in a raft of crucial swing states with just days to go before Election Day, the resurfaced recording isn't the game-changer he needs. But it does add another piece to what can be called McCain's "kitchen sink" final argument, in which he is summarizing all the charges against Obama and personal associations that McCain hopes will sway undecided voters and even some of the decided.
Indeed, polls are tightening, as they always do at the end of a campaign. Del Ali, pollster for the nonpartisan Research 2000, which is running surveys in many battleground states, says the "redistributionist" argument has not changed the fundamental shape of the race.
"At this point, I mean, they've done everything they can in terms of going after Obama," says Mr. Ali. "What's going to change, really?"
---