The new voter: A young Arab-American feels duty-bound to vote
Syrian-born Omar Kurdi of Irvine, Calif., became a US citizen at age 15. A student activist, he gives much weight to the candidates' foreign-policy stances, especially in Iraq and the Middle East.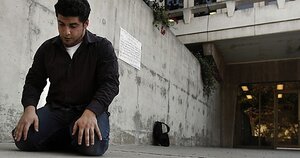 Tony Avelar/The Christian Science Monitor
Omar Kurdi grew up doing all the typical things of American boyhood: riding bicycles with neighborhood buddies, rollerblading, and getting swept up in game fads like pogs.
His pathway to the ballot box, though, has been more unconventional. The Syrian-born college student had to become a United States citizen first.
He cleared that hurdle early. At age 15, Omar went with his dad to the federal building in Los Angeles to have his picture taken. Because of his age, he didn't have to be interviewed or be sworn in with his parents.
With citizenship comes the vote, and Omar says that he, being a "post-9/11 Arab-American," feels an intense obligation to exercise that right. He cites "a pressure on the whole Arab community to be more involved, [which] means carrying on your responsibility through voting or whatever other means."
Omar, who often visited relatives in Syria during his youth, appreciates firsthand the difference between elections in a democracy and a dictatorship. At 21, he's already a seasoned activist for worker rights, Palestinian causes, and social justice matters – fully exercising the free-speech rights that he knows would not be tolerated in some countries.
That doesn't mean he thinks his adopted country is perfect. The US doesn't qualify, technically speaking, as a true democracy, Omar asserts in an e-mail follow-up to an interview, in part because "it disenfranchises people who lack access to political power – namely working class/poor people."
---