Obama set to make voting history
But the McCain campaign, fighting to the end in key states, vows it'll be a 'slam-bang' finish.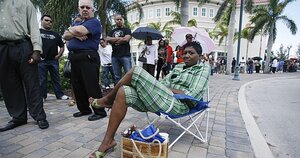 Pat Carter/AP
On the eve of the historic 2008 presidential election, Illinois Democrat Barack Obama appears poised to win.
Both nationally and in polls of many battleground states, Senator Obama holds a steady lead, comfortably outside the margin of error. Just adding up the states that polls show are solidly in Obama's column and those leaning in his direction, he has 278 electoral votes, more than the 270 needed to win the presidency, versus 132 for Republican John McCain. The more likely scenario, with Obama competitive in more than a dozen states won by Republican President Bush four years ago, gives Obama well over 300 electoral votes on Tuesday.
"At this point, John McCain probably can't win without divine intervention," writes Charles Cook, editor of a nonpartisan political newsletter.
A look at where the two candidates campaigned on the final day tells the story: Obama was on offense, slated to appear only in states won by Bush four years ago: Florida, North Carolina, and Virginia. McCain played mostly defense, appearing in Ohio, Florida, Nevada, New Mexico, Pennsylvania, and McCain's home state of Arizona. Of those, only one – Pennsylvania – voted for Democrat John Kerry four years ago.
---