In Congress, a party sweep for Democrats
But they fall short of the 60 Senate seats needed to overcome filibusters and end gridlock.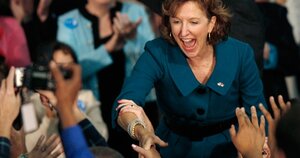 Ellen Ozier/Reuters
Barack Obama's historic victory Tuesday night means Democrats will be in control of both ends of Pennsylvania Avenue for the first time since 1995 – a one-party sweep that is lifting public expectations for what government can do to improve the lives of Americans.
It's not the full coronation many Democrats had hoped for. They fell short, notably, of the 60 votes needed in the Senate that are considered the key to breaking partisan gridlock on Capitol Hill.
But as election results continue to trickle in Wednesday, Democrats stand to pick up at least 16 seats in the House of Representative and at least five in the Senate – adding to their big gains in 2006 campaign cycle and giving the new president stronger working majorities in Congress.
The only vestige of conservative control is the US Supreme Court, but even that may shift, as Mr. Obama starts sending any judicial nominations to a Senate now more likely to back them.
If history has any lessons for a new president, however, it's that one-party control doesn't ensure that a new president can move his legislative agenda or meet public expectations for change.
The Obama administration also faces formidable challenges, including a budget deficit near a record-shattering $1 trillion by the time Obama is sworn into office in January.
Even as Democrats rejoice in their victory, they're already discussing how to manage these new expectations: from voters, eager to see economic relief; from liberal interest groups, looking for a reward for their campaign efforts; and from powerful committee chairs on the Hill, eager to move their own agenda items blocked by eight years of a Republican presidency.
---