Obama victory signals new push for unity
Americans elect their first black president and deal a blow to an era of Republican ascendancy.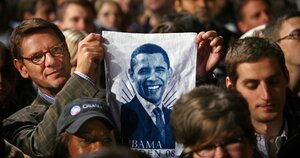 Melanie Stetson Freeman/The Christian Science Monitor
Riding a promise of hope and change, Barack Hussein Obama was elected the 44th president of the United States on Tuesday.
Senator Obama's victory marks the first time American voters have elected a black man as their national leader.
It is a historic achievement greeted with cheers of celebration in urban neighborhoods that have had little to cheer about for years. More important, it is an achievement that may help unite the country and heal racial divisions as old as the republic itself.
"If there is anyone out there who still questions the power of our democracy, tonight is your answer," Obama declared in his victory speech.
Moments earlier, Republican John McCain had conceded the election, reaching across the partisan divide. "I pledge to [Obama] tonight to do all in my power to help him lead us through the many challenges we face," the Arizona senator said.
The election touched Americans of all hues, but perhaps none more so than African-Americans who had personally experienced a time when blacks had little opportunity for advancement.
"I prayed for the day," said James Bronson, who was born nearly 88 years ago on the wrong side of Jim Crow South Carolina and never dreamed he would live to see a black president in the White House.
News of Obama's success left Mr. Bronson almost speechless. "I am very much satisfied," he said.
---
Follow Stories Like This
Get the Monitor stories you care about delivered to your inbox.