What Obama's election means abroad
Barack Obama's victory was met with euphoria in many nations by those who see him as restoring their faith in American ideals.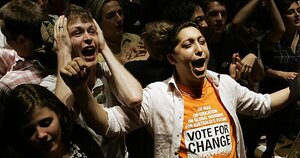 Rob Griffith/AP
Johannesburg, South Africa
As Wednesday dawned rainy and gray on the Champs- Élysées, a Parisian waiter spontaneously gave a fist pump and shouted, "Obamamania! Yeah!"
The world, which has tracked this American election like no other, sees Barack Hussein Obama as their president, their choice. And they see him through their own geographical and cultural prisms. To many, he represents the restoration of faith in American democratic ideals, of equality. The global euphoria over the election of the first black US president is also partly an expression of a populace that wants to believe that the same principles can apply to their lives, too.
Of course, as the son of a Kenyan goatherd, he'll be Africa's man at the White House, say Kenyans. But his appeal seems to transcend his heritage or his skin color. In Pakistan, for example, where politics has been the province of a wealthy elite, Mr. Obama is a powerful symbol for the dispossessed masses. Yes, he went to Harvard University. But also went to a Muslim elementary school in Indonesia. "They will say, 'He is one of us,'" says Rasul Baksh Rais, a political scientist at the Lahore University of Management Sciences.
---