After big losses, GOP looks to rebuild public trust
Leaders say they'll have to examine their party's 'brand' and consider new faces.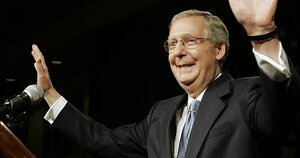 Ed Reinke/AP
After a drubbing at the hands of voters in the last two election cycles, Republicans are regrouping around two ways out of the wilderness.
One is to find a new face for the party – presidential contender Mitt Romney, Alaska Gov. Sarah Palin, or Louisiana Gov. Bobby Jindal are often cited – and wait for the Democrats to "overreach."
The other is to publicly overhaul the family brand. That means vetting the mistakes of GOP years in power – corruption, big government, and pork-barrel projects – and restoring public trust.
"What the election told us is that the American people agree with our ideas, they just don't trust us," says Sen. Jim DeMint (R) of South Carolina, who was renamed chairman of the Senate Steering Committee, a caucus of conservative senators, on Thursday.
"[President-elect] Obama ran on tax cuts, energy independence, curbing wasteful spending. He even said he would order an audit of all federal agencies to cut out waste. The reason we are losing is that we are not acting like Republicans," he adds. "The Senate is ruled by a few big spenders, and we've allowed big spenders to rule and ruin our party."
---