Obama made inroads with religious vote
The Democrat prevailed with Roman Catholic and Jewish voters. He even picked up support among Evangelicals.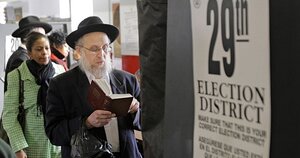 Kathy Willens/AP
This year it appears the Democrats got religion, at least in terms of the vote.
In becoming the president-elect, Barack Obama made gains among religious voters of almost every type compared with recent Democratic presidential candidates. He handily won the Catholic and Jewish votes, and even picked up support among Protestants and some Evangelicals, long a pillar of Republican ballot-box strength.
Republican John McCain did win more support than President-elect Obama among people who attend worship services at least once a week. He also won almost three-quarters of white Evangelicals – a margin smaller than President Bush's in 2004. In the end, it wasn't enough to overcome voters' dissatisfaction with the past eight years of Republican rule.
Some theologians suggest that the religious shift signals the emergence of a faith-based coalition that will counterbalance or, perhaps, replace the religious right. It's made up of mainline religious progressives, black and Hispanic Evangelicals, and a growing number of younger, white Evangelicals and Catholics.
A "whole new faith coalition is coming together and reaching out to allies in other faith traditions, both Jewish and Muslim," says Jim Wallis, a theologian on religion and public life. "The generational shift [among Evangelicals and Catholics] is very significant. Many young Christians cast a post-religious-right ballot."
During the campaign, both presidential camps made a point of reaching out to the opponent's core religious constituencies. Obama's campaign spearheaded a grass-roots drive to bring in young Evangelicals and Catholics. The McCain campaign relied more on surrogates like Sen. Joseph Lieberman (I) of Connecticut to try to bring Jewish voters into the GOP.
---