An economic lift after the vote?
Relief that the election is over could put some consumers in more of a spending mood.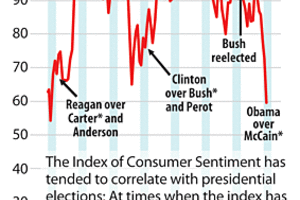 SOURCE: Reuters/University of Michigan Surveys of Consumers/Rich Clabaugh/STAFF
No one can predict how long it will last, but economists expect the economy to get an Obama bump, which could give retailers something to smile about this fall.
The cause of this feel-good period: relief that the election – with all its negative ads – is over and the expectation that both political parties will put a greater emphasis on national unity.
"When you are knee-deep in a contentious campaign, there is a lot of negative rhetoric," says Scott Krugman of the National Retail Federation in Washington. "Once it's lifted, you get a kind of halo effect."
On Tuesday, a survey found that consumers ranked the election as the second most important factor in their holiday spending plans, only trailing the high cost of living. The survey also found that 8 percent of households, considered a modest amount, would increase their spending with an Obama victory.
"With Obama winning and more optimism, those factors could on the margin help holiday spending," says Michael Niemira, chief economist for the International Council of Shopping Centers, which commissioned the survey with Goldman Sachs. "But we don't hold out hope for a huge lift."
---