Obama urges Bush, Congress to pass a stimulus package
The president-elect also pushes for a $25 billion bailout of the auto industry before he takes office.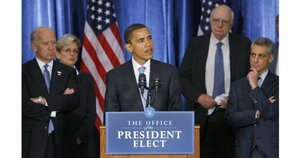 Charles Dharapak/AP
Barack Obama isn't president yet. He doesn't want to appear to be trying to usurp President Bush's authority. But he's still going to speak his mind – politely – about some things he thinks the government should do to jump-start the ailing US economy.
That was the overall impression President-elect Obama appeared to be trying to give in his first public remarks following his election as the nation's 44th occupant of the Oval Office.
In particular, Obama said that he believes that Congress should pass, and the current president should sign, some sort of broad government spending package as an attempt at economic stimulus.
"I want to see a stimulus package sooner rather than later. If it does not get done in a lame-duck session, it will be the first thing I do as president of the United States," said Obama during a press conference held at Chicago's Hilton Hotel.
Obama also urged the current administration to accelerate the provision of $25 billion in Energy Department loans for the auto industry. This money, already approved by both Congress and the White House, is intended to provide cash for hard-pressed US automakers to design and engineer new fuel-efficient vehicles.
Assistance for state and local governments struggling from declining tax revenues will also be high on Obama's agenda in his initial days in office.
"We are facing the greatest economic challenge of our lifetime and we're going to have to move swiftly to resolve it," he said.
House Speaker Nancy Pelosi (D) of California has already called for a two-part economic stimulus package that would consist of a $100 billion package passed by a lame-duck session, followed by some sort of permanent tax cut after Obama's inauguration.
---