Minnesota Senate race down to a handful of votes...and counting
Neck-and-neck US Senate race in Minnesota, down to a handful of votes, will require a recount.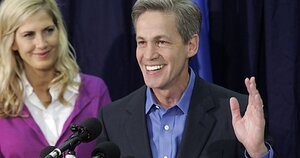 Jim Mone/AP
In the end, there wasn't much comedy in Al Franken's run for the US Senate.
The former "Saturday Night Live" performer and writer campaigned in Minnesota more as a policy wonk than a humorist, in a widely watched and excruciatingly close race that will draw attention until the final results of a recount are known.
Norm Coleman, the Republican incumbent, currently leads by just 221 votes out of nearly 3 million votes cast, a razor-thin margin that has been fluctuating daily and will generate an automatic recount when the tally is made official on Nov. 18.
It's one twist in a campaign that has drawn national interest from the beginning, pitting a comedian against a lapsed Democrat, who together set campaign spending records for a congressional race and earned criticism for harsh, negative ads.
"'Minnesota nice' has kind of been put into the trash can of history," says Larry Jacobs, director of the Center for the Study of Politics and Governance at the University of Minnesota. "Recounts are by their nature acrimonious, and Minnesota is starting what is naturally an acrimonious process at what is already a high baseline level of acrimony."
---