From stem cells to emissions, Obama set to reverse Bush policies
The president-elect will issue many executive orders soon after taking office. Experts say he'll reward traditional party constituencies but tread lightly when it comes to national security.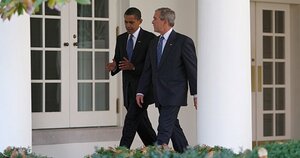 Jim Young/Reuters
In some ways, a president is never more powerful than when he first takes office. He's just won election, the voters have given him a mandate. And on some issues, when he sits down at that big desk in the Oval Office, all he has to do is wave a magic wand – otherwise known as a pen – to change government policies. No congressional approval is required (at least when money is not involved.)
The flurry of executive orders that President-elect Barack Obama is expected to sign soon after inauguration follows in the modern tradition of American presidents. When partisan control of the White House changes, so does the government's approach to a range of policies. During the campaign, Mr. Obama signaled areas where he plans immediate changes:
•Stem-cell research. Obama has promised to reverse restrictions on federal funding for embryonic stem cell research put in place during President George W. Bush's first year in office. Mr. Bush's position sought to satisfy religious conservatives, who objected to open-ended use of stem cells taken from human embryos for research on diseases. Obama is responding to the concerns of scientists who say the existing stem-cell lines are inadequate.
•International family planning. Obama intends to lift the so-called "gag rule" that bans international family-planning groups that receive US funds from discussing abortion as an option. This rule was introduced by President Reagan (then known as the Mexico City policy), and with each subsequent change of partisan control in the White House, the rule has gone – and come back.
•Carbon-dioxide emissions. Obama has said he will reverse the Bush administration's decision to block California from regulating greenhouse gases from vehicles. Under the Clean Air Act, California had sought to make air-quality standards more aggressive than national regulations, but Bush's Environmental Protection Agency said it preferred a national approach, not state-by-state. Seventeen states are set to follow California's lead.
---