Democrats reshuffle Hill leadership
Some long-time committee heads are replaced in order to advance Obama's agenda.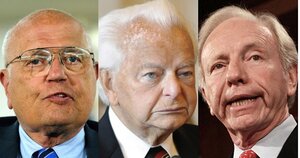 From left: Roger L. Wollenberg/UPI, Susan Walsh/AP/File, Lauren Victoria Burke/AP
As Team Obama jump starts its presidential transition, there's a parallel transition under way on Capitol Hill to gear up for a new administration.
After eight years of playing defense to the Bush administration, Democrats are shifting to what leaders describe as a brisk offense aimed to move the priorities of a stronger Democratic majority and a Democrat in the White House.
The pending agenda ranges from relief for the economy to an overhaul of the nation's health, tax, regulatory, and energy policies.
At issue is whether some senior Democrats – viewed as out of line with the legislative agenda of a new president or otherwise unfit for the job – get to keep their gavels.
The first to step down was Sen. Robert Byrd (D) of West Virginia, a member of the powerful Appropriations Committee for 50 years and its chairman for the last 10. The longest-serving senator, he is also president pro-tem of the Senate and third in presidential line of succession (after the vice president and the Speaker of the House).
When rumors flew that he might be asked to resign by Senate majority leader Harry Reid, Senator Byrd, who is battling health issues, wrote a letter to colleagues urging their support. But on Nov. 7, he said he would step down, effective Jan. 6.
"I want to stress that this is a decision I made only after much personal soul searching, and after being sure of the substantial Democratic pickup of seats in the Senate," he said in a statement. "I am now confident that stepping aside as Chairman will not adversely impact my home state of West Virginia."
---