Gay activists protest Mormon church
Beyond the anger over the church's support for a gay-marriage ban in California, some seek dialogue.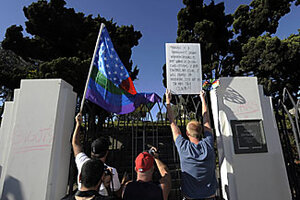 Kevork Djansezian/AP
At a rally downtown, Kevin Kopjak holds a sign that reads, "No More Mr. Nice Gay." Many in the gay community are fed up, he says, and ready "to fight the good fight."
Tens of thousands of people have turned out in California cities to protest a new voter-approved ban on same-sex marriages, and wider demonstrations are planned for this weekend.
Much of the anger rippling through the crowds has focused on the Mormons and the leaders of their Church of Jesus Christ of Latter Day Saints (LDS). Church leaders asked members to support the ban, and they did – to the tune of more than $15 million, by one estimate.
Now petitions are circulating that call for the LDS church's tax-exempt status to be revoked. Gay marriage supporters are also trying to organize a boycott of Utah, and have picketed Mormon temples in Oakland, Los Angeles, and Salt Lake City.
Even in the heat of protests, however, both sides reveal a nuanced empathy for the opposition beyond what the placards, robo-calls, and TV ads might suggest. The challenge, say some leaders and experts, is to build on that by opening up dialogue and avenues for compromise.
---