Under Obama, a newly interactive government?
The president-elect aims to use the Internet to make government more participatory.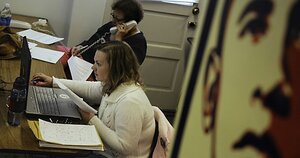 Chris Fitzgerald/Candidate Photos
Want to give Barack Obama a piece of your mind about what's wrong with the United States government? Just go to www.change.gov and click on "Share Your Ideas."
A man named John from Seattle did: "I am so tired of special interests getting the best of us all."
So did Lexington from San Diego: "I'd like to see an agenda that focuses on promoting transparency...."
The website is the official, online face of the Office of the President Elect. It gives a first glimpse of how Mr. Obama intends to harness technology to create a cutting-edge, participatory democracy in a similar way he used Internet connectivity to transform campaigning.
The idea is premised on the digital world's potential to transform the US into one large cyber town-hall meeting: Every citizen will ideally have a window into the workings of government and an opportunity to tell elected leaders exactly what they think of it.
It's an idealistic notion that will require some concrete changes – from a large investment in upgrading government computers to a change in the rules and regulations that guide government employees. Most important, it will require a radical transformation of the entrenched culture of secrecy and the dominance of special interests that define how Washington operates.
---